NYLON 12 CARBON FIBRE STOOL
NYLON 12 CARBON FIBRE END OF ARM TOOLING
RAPID PROTOTYPING
Using the toughest 3D-printing materials ever created, Rutland Plastics has the capability to produce rapid fully functional prototypes in-house for you to confidently test the functionality of your products prior to committing to the investment in a mould tool.
This advanced 3D production system prints with FDM Nylon 12 Carbon Fibre (CF) and ASA give unparalleled strength and stiffness to prototypes, and indeed low volume production parts, jigs and fixtures, plus end-of-arm robot tooling that we produce.
The Fortus system uses a wide range of thermoplastics with advanced mechanical properties so that your parts can endure heat, caustic chemicals and high impact applications, meaning carbon fibre printed prototypes are much more than typical printed prototypes used to validate form and fit, because of their incredible strength they can be fully tested for functionality just as an end-use part.

HELPING YOU ALONG THE WAY
Working in partnership with you: as part of our prototyping service, we offer free design advice and support
RAPID TURNAROUND
Wherever possible, we aim to respond with a quote within 24 hours. You can have prototypes in your hands within 3-4 days of initial contact—sometimes faster

TAKING IT FURTHER
Our free design advice will help you take your project further. It is important that your prototypes simulate future production parts in terms of functionality. We can also provide you with advice on material selection and a quote for production parts
MATERIAL POSSIBILITIES
NYLON 12 WITH A CARBON FIBRE FILL
Our advanced 3D prints in Nylon 12 with a 35% Carbon Fibre (CF) fill give unparalleled strength and stiffness to prototypes, and indeed low volume production parts, jigs and fixtures, plus end-of-arm robot tooling that we produce.
Finished prototype parts can be painted, machined, drilled or chrome plated. All materials are REACH compliant. Rapid prototypes produced using this method are as life-like as the final manufactured items so form, fit and function can be accurately tested.
We can produce parts in UV stable ASA in various different colours (see examples of 3D printed parts).
Sometimes it is necessary for product assemblies to be manufactured from a combination of materials. Traditional prototyping can be expensive in these instances. We are able to manufacture parts and assemblies made from multiple materials and with different mechanical properties.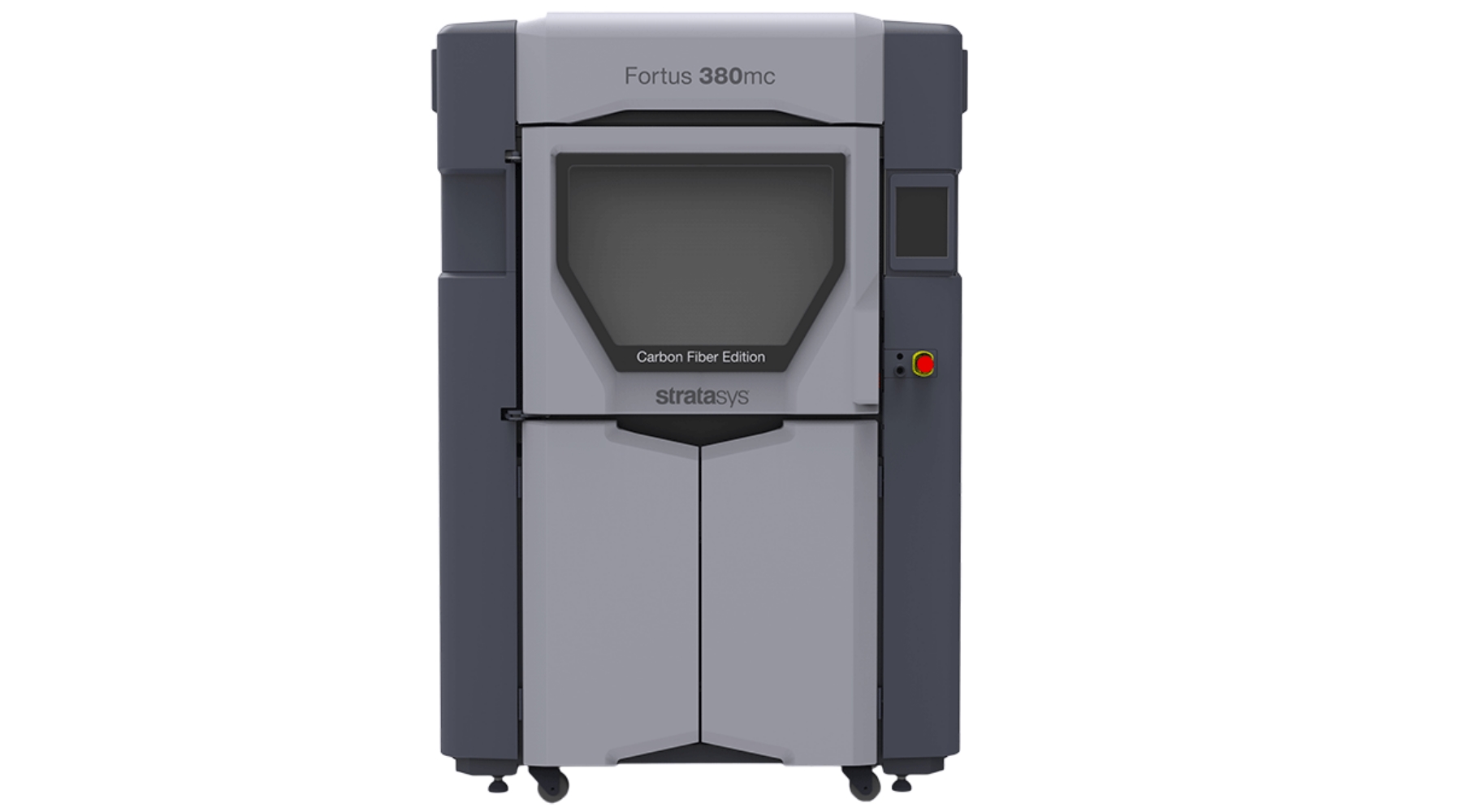 End of Arm Tooling & Jigs/Fixtures
Built with integrated functions; mechanisms, air channels and mounts for sensors directly incorporated into parts printed in carbon fibre reinforced Nylon
Functional Prototypes
Printed parts that are lightweight but stronger and stiffer than typical prototypes. Fully functional, resistant to corrosive environments and able to withstand real world conditions

Low Volume Production
Repeatable production parts in both Nylon 12 CF and ASA in a variety of colours without the time or cost previously associated with short production runs
PROTOTYPING AND PRODUCTION
JIGS & FIXTURES, EOAT, LOW VOLUME RUNS
LOW VOLUME PRODUCTION RUNS
The addition of the Fortus 380 CF 3D printer means that we can create accurate, repeatable parts faster than ever before. We have been long-time advocates of additive manufacturing technology and producing low volume end-use parts is a new but valued service that we can now offer our customers.
END OF ARM ROBOT TOOLING
Carbon fibre printed end-of-arm-tooling (EOAT) and gripper systems offers a number of great advantages:
Intricate, slim and complex parts can be printed
Speed and cost savings
Lightweight EOAT assist payload constraints
Weight reduction improves motor efficiency, speed and performance.
Durable and strong
JIGS & FIXURES
You can be assured of our expertise with jigs and fixtures because we print our own. Not only can jigs and fixtures be created far quicker than traditional methods but they are cheaper too, and highly durable for the rigours of a workplace environment.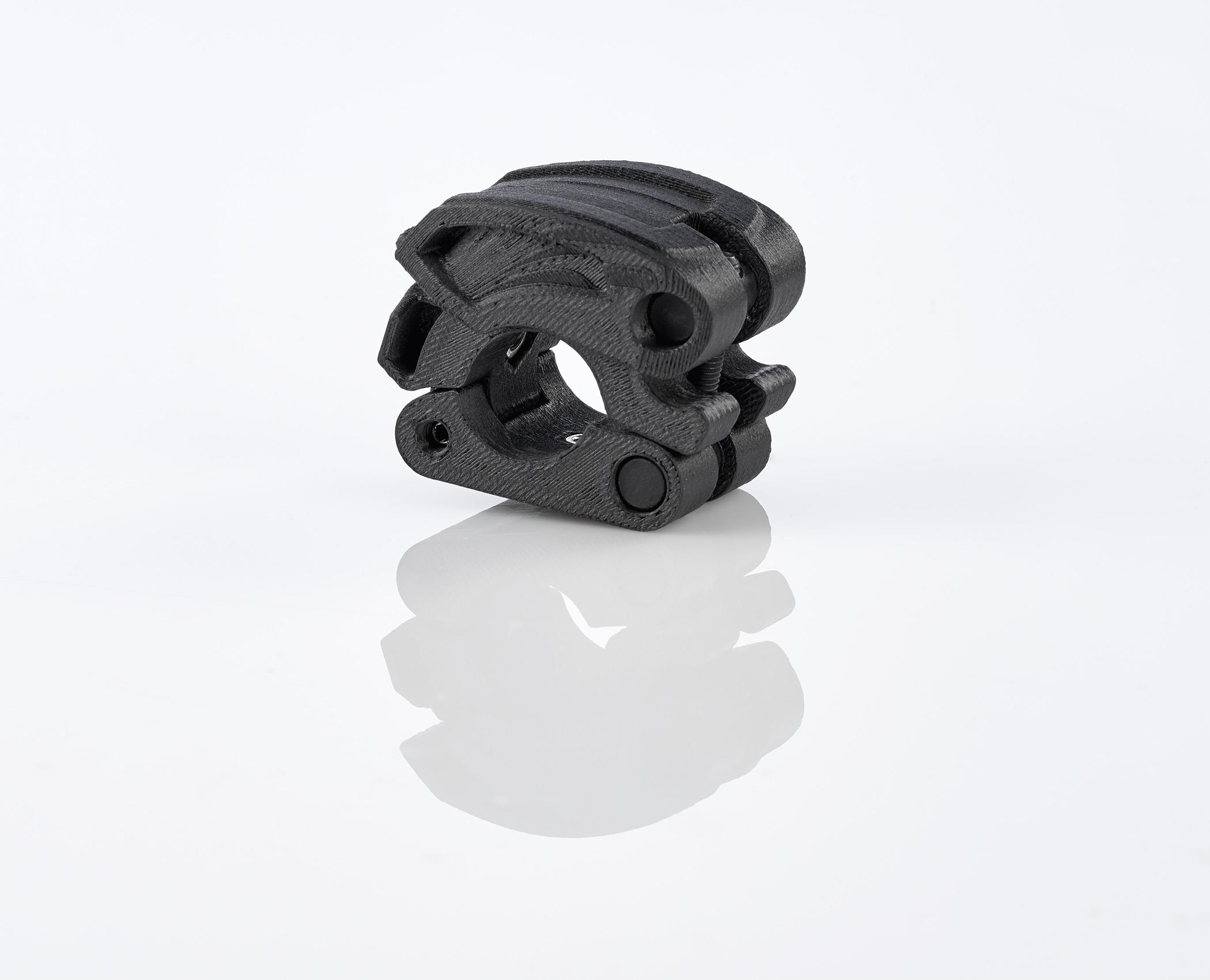 ACCURACY
Wall sections from a minimum of 1mm are possible with an accuracy of parts of 0.5mm*. The maximum build size of any part we are able to offer is 355mm x 305mm x 305mm. Larger plastic prototypes are possible by joining two or more models.
*Parts are produced within an accuracy of ± .127 mm (± .005 in.) or ± .0015 mm/mm (± .0015 in/in), whichever is greater).
MATERIALS
There are 2 materials which we can print:
Nylon 12 CF (35% Carbon Fill): Rigid, opaque materials that combine dimensional stability with high detail.
ASA: A UV stable ABS capable of being produced in various colours.
VISIT OUR DEDICATED 3D PRINTED PROTOTYPE WEBSITE
Case studies and gallery images illustrate the capabilities of our 3d print service.
EOAT tooling, jigs and fixtures, functional prototypes and low volume production runs.
NEXT STEP – TALK TO THE EXPERTS!
We can provide advice and quotes on anything from a simple sketch to a 3D computer model. Most drawing formats can be handled although we find STEP, Parasolid and DXF translate most successfully.