Design for injection moulding
Design for plastic injection moulding requires a certain approach and working with Rutland Plastics saves time and money and results in suitable plastic moulding designs from the outset.
Why use expensive external design services?
Here at Rutland Plastics we work in partnership from initial concept, through the injection moulding design stage using 3D CAD and Moldex3D to the making of the injection mould tool. All through that process, we share our expertise with customers and together we optimise the choice of plastic material, physical shape, ease of production, cost and performance.
We advocate that you take the opportunity to tap into this technical support early in the process because it helps de-risk the project thus avoiding costlier modifications at a later stage.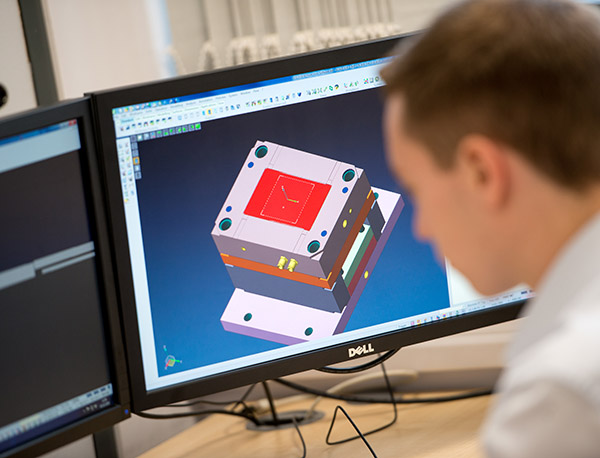 Working in partnership
We believe in working in partnership with you, acting as an extension of your own technical department. Working together we can find the best injection moulding solution.
Free advice
In addition to the wealth of information freely available on our website, you can call us at anytime for help with your project.

Deliver on promise
We listen to what you want and work with you to achieve the results you need. Most of all it means delivering on our promise to you – every time.
DESIGN FOR PLASTICS
There are many things to consider when designing for injection moulding. That's why our experts are here to help.
Rutland Plastics uses Moldex3D software to fine tune new mould designs, therefore, ensuring cost effective and reliable designs from the outset.
PROTOTYPING
Prototypes can also be arranged. Rutland Plastics has its own 3D printer capable of producing rapid plastic prototypes which will closely resemble the final injection moulded parts enabling you to fully test the part prior to investing in tooling.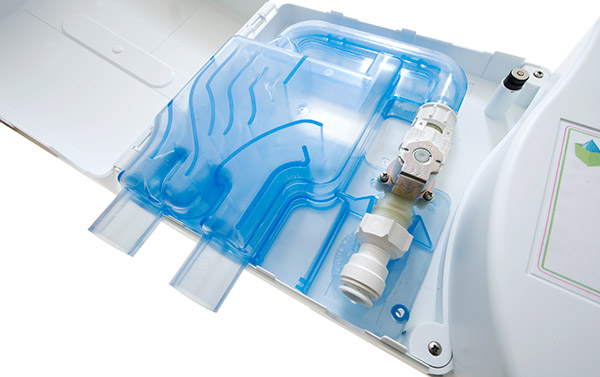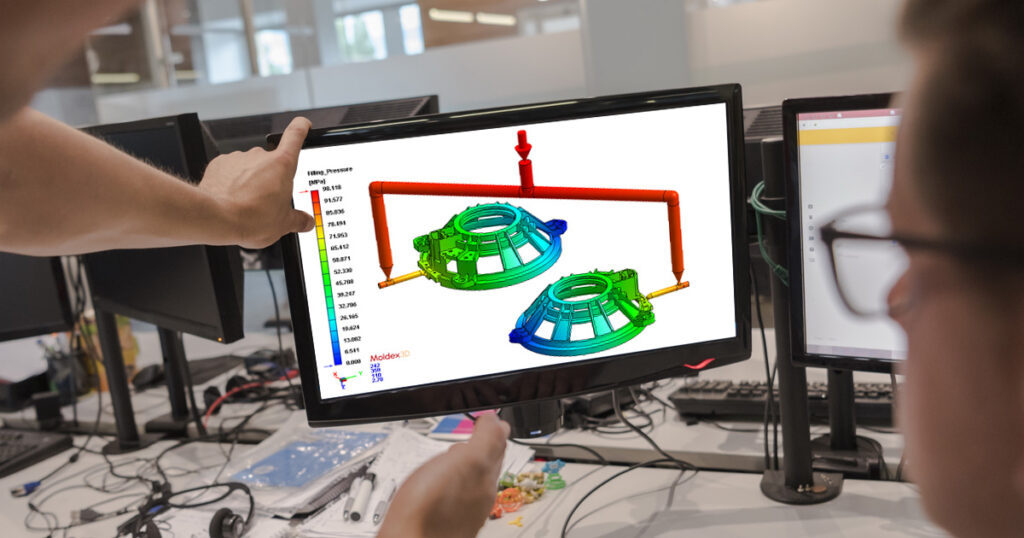 MOLDEX3D
Whenever designing a product or component for injection moulding, there is always a benefit in optimising the mould tool and moulding process from the outset. Rutland Plastics' technical team take pride in the support they offer customers. To help them they use Moldex3D software which enables the simulation of the injection moulding process to help develop cost effective and reliable mould designs; it can also help to assess optimum moulding conditions.
Using the best-in-class analysis technology Moldex3D, we can simulate the widest application range of injection molding processes to optimise product design and manufacturability, shorten time-to-market, and maximize product ROI. benefits of using this software are:
Use of a 3D model allows us to obtain product insights, visualise flow and thermal properties, and optimise processes before physical parts are built
The ability to obtain the in-depth appearance and detect potential defects from comprehensive analyses
Helps us develop a melt delivery system including sprues, runners, and gates, and building coolant channels and mouldbase, with automated error detection
The auto meshing tools help to simplify the model preparation and allow the design team to validate designs efficiently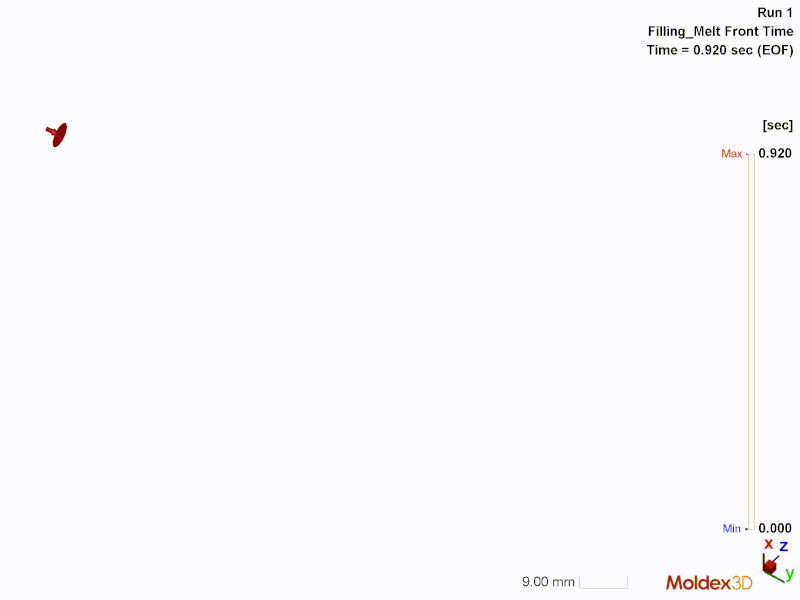 IN THE BEGINNING
The most obvious time to use this aid is at the early stages of development. Before any tool is started, using VISI Flow we can can highlight any potential manufacturing issues, such as weld lines, air traps and the best gate location. This can avoid any costly and time consuming changes to the mould tool at a later date.
EXISTING PARTS
Of course, there are occasions when existing components are not moulding or performing as expected. VISI Flow simulations can help with understanding the conditions inside the mould cavity during the moulding cycle. This can save time and money in judging the effectiveness of different corrective actions whether that is to the moulding process or even minor modifications to the mould tool itself.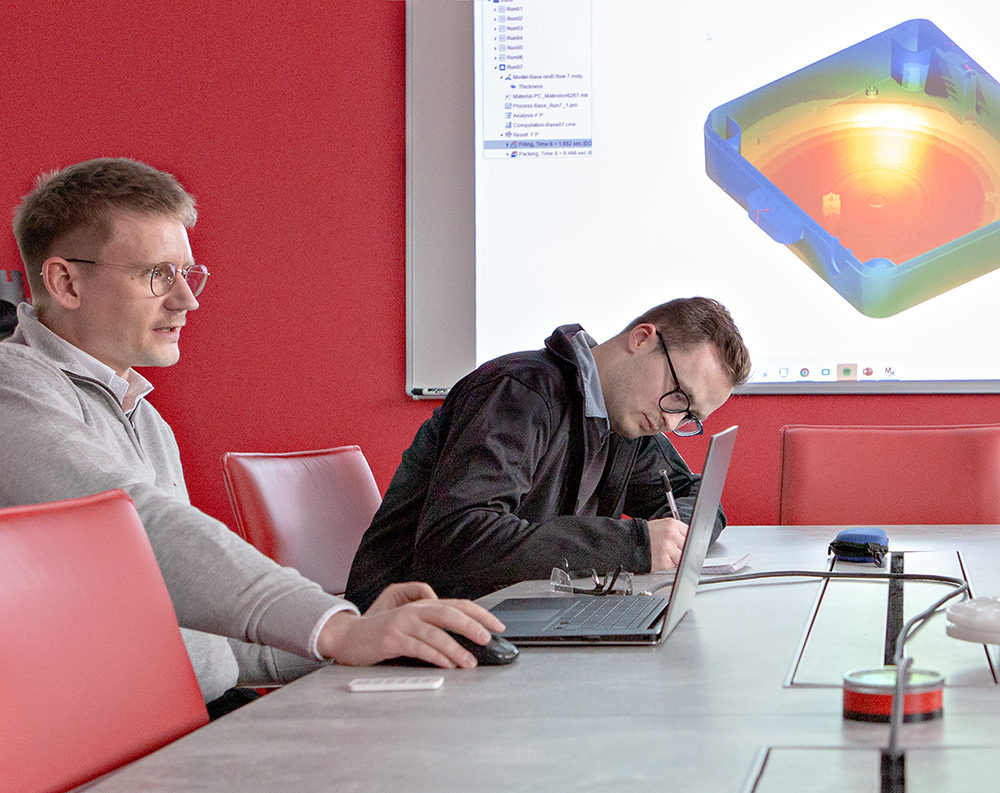 ACCURACY
Moldex3D uses a pre-processing tool with robust meshing technologies and different mesh elements which gives consistent results unaffected by component size, complexity or wall thickness.
Results are affected by the type and even the grade of material used and there is an extensive material database covering a wide selection of material grades and suppliers. The software provides the same level of control over the injection of molten polymer into the mould tool as on any injection moulding machine, while the filling simulation provides the ability to forecast and visualise how a part will be filled making it possible to identify any potential aesthetic issues. The results will also help identify any possible defects, such as sinking or voids.
Rutland Plastics can work with CAD files in almost any format although Parasolid or STEP are the preferred options but we also work with Iges, DXF, DWG and PDF.
Contact Rutland Plastics for help with your products or components, whether it is a completely new project or existing parts that you may be experiencing problems with.
DESIGNING FOR PLASTIC INJECTION MOULDING NEEDS SPECIAL CONSIDERATION
Taking your design through to production requires the part to undergo 'Design for Manufacture'. The following series of articles offers help and advice in a number of areas.
NEXT STEP – TALK TO THE EXPERTS!
We can provide advice and quotes on anything from a simple sketch to a 3D computer model. Most drawing formats can be handled although we find STEP, Parasolid and DXF translate most successfully.