PLASTICS IN THE OVEN
There are many applications for thermoplastic materials that require high heat resistance but where would you least expect to find plastics used? As cookware in both domestic and commercial ovens? Well, even this unlikely application is now a reality.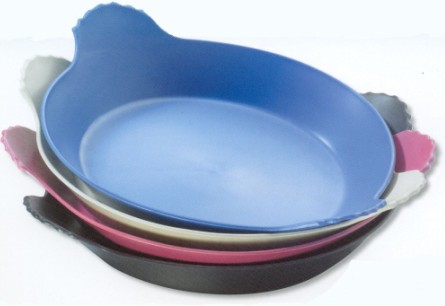 For several years now there has been a movement to replace metal with plastic in many applications.  This has been driven by a need to achieve cost and weight savings but using plastics has also meant a wide range of design options has become available.
So, what about ovenware?  The material that is used in this application is Liquid Crystal Polymer (LCP), and in particular Vectra® from Celanese.  This material has traditionally been used in small components in products such as mobile phones, hearing aids and sensors for vehicles.
BENEFITS
The advantages of plastic as opposed to metal ovenware are:
Non-stick surface without the need for coating or re-coating.  Currently, the cookware is just for the domestic market but this point could be particularly useful for commercial bakers.  Traditional metal baking tins are coated with silicone or PTFE which need re-coating after a certain number of baking cycles.  LCP bakeware would avoid this cost and downtime.
Good mechanical strength: high rigidity and no warpage.
10% energy saving in baking time and temperature.  Again, particularly attractive to commercial bakers.
Approximately 30% lighter than metal.
Suitable for use in ovens, microwaves and freezers over a temperature range of -196˚C to +280˚C.  Of course, metal bakeware cannot be used in microwaves.
Design freedom and wide range of colours available.  This means that attractive bakeware may be produced which is genuinely oven to tableware.
Because the plastic cools more quickly than metal it can be handled sooner.  This is also an attractive proposition for commercial applications as the pans can be emptied, re-filled and re-used within a very short space of time.
Dishwasher safe and detergent resistant.  After use they can be loaded straight into the dishwasher unlike their conventional metal counterparts.
Injection moulding offers cost efficient production.
Vectra® LCP has EU and FDA food contact approval.
It is still early days but you may soon be able to buy a wide variety of plastic ovenware from you local cookshop or department store.
(This article was extracted from a larger feature in Ticona Inform Magazine 10.2006)