Rutland Plastics has just completed the biggest single investment in its 60 year history – a new £2.2m warehouse facility. With a wide range of machines up to 1700T the large mouldings in particular require a lot of space and, as the company has grown and got busier, storage was becoming a problem.
Steve Ayre, MD, said: "As part of the overall factory redevelopment, which has included an additional production bay and new offices, we always planned new warehousing.  The growth we have seen over the last couple of years convinced us now was the right time to build it."
This new 30,000 ft2 addition to the company's site in Oakham not only provides much needed space for raw materials and finished goods, but also will help with reducing the company's electricity bills.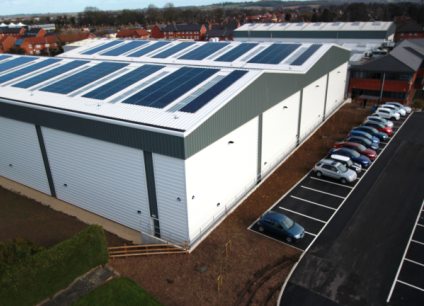 On the roof of the new building are more than 900 PV panels, 250KW in total, with the capacity to generate 25% of demand at peak.  The electricity saved combined with the feed in tariff is projected to contribute £40,000 per year, around 11% of Rutland Plastics total electricity bill.
As well as the environmental benefits of the PV panels, the new warehouse also offers efficiencies by being directly linked to production unlike the two old warehouses it replaces.  Using state of the art barcoding technology, stocks are easily tracked and monitored.
Steve Ayre added: "This is the biggest single investment in the company's history, and we've immediately benefited from the efficiencies the new warehouse provides.  It is further evidence of our commitment to the future."