PLASTICS ADDITIVES – FLAME RETARDANTS
Please Note: This page is for information purposes only. Rutland Plastics is an Injection Moulder and does not supply plastics additives.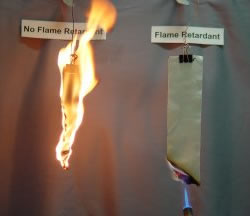 The majority of polymers are flammable, giving off noxious fumes when burning. In some applications, therefore, it is necessary to prevent the ignition or spread of flame in the plastic material.
Only about 10% of plastics are flame retarded. Building and construction is the main application followed by the electrical and electronics industries, automotive and furnishings.
Most flame retardants use the basic chemical elements of Chlorine, Phosphorus and Bromine, either singularly or in combination of one or more of them. Other elements, such as antimony and nitrogen, may also be added to enhance the effectiveness of the flame retardant.
The main types are as follows:
Brominated – These are the most commonly used today. They are versatile and provide the best balance between flame retardant performance, mechanical properties, processability and cost.
Organo Phosphorus – This group also includes phosphorus-halogen compounds. These are frequently used in polyurethane foams as well as alloys such as PC/ABS, where stringent standards need to be met. These flame retardants work well in these resins with good physical properties and UV stability. There is now pressure to use halogen free flame retardant materials.
Metal Hydroxides – These are the most common halogen free flame retardants. They can be used in a wide range of polymers including polyolefins, TPE, PVC and some engineering materials such as nylon.
Melamine – This is a fast growing segment of the flame retardant market due partially to the fact that they are halogen free. The advantages they offer include low smoke density and toxicity, low corrosion, environmentally friendly and cost effective. Currently their use is mainly in polyurethane foams, polyamides (nylons) and thermoplastic polyurethanes.
More information on flame retardancy and the test methods used.