PLASTICS INDUSTRY AWARDS 2016
Rutland Plastics won the 'Best Environmental or Energy Efficiency Programme of the Year' category in this year's Plastics Industry Awards.
ENERGY AND CO2 REDUCTION PROGRAMME
In the last few years the company has invested heavily in green initiatives culminating in the 900 (solar photovoltaics) PV panels that are integrated into the specially reinforced roof of the new 30,000 ft2 warehouse facility. The panels total 250kWh with the capacity to generate 25% of demand at peak.
Other initiatives introduced include:
A Free Cooling system utilising low external air temperature to assist in cooling water. This reduces the need for the chiller operation during times of cooler ambient air.
Smart lighting combining LED and occupancy motion sensors in areas of irregular or infrequent use, e.g. in the warehouse aisles, corridors and stairwells – using light only when needed.
Factory roof structures have been fitted to exploit natural daylight, these rely less on artificial lighting and combined with electronic vents allow for better temperature control.
Application of the latest web-based technology delivering desktop up-to-the-minute energy monitoring across the company's appliances and green energy generators.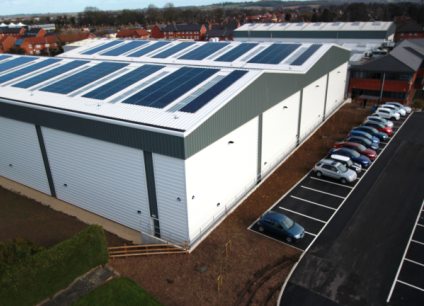 Since implementing the energy and CO2 reduction programme, the following benefits have been seen:
The electricity saved combined with the feed in tariff is projected to contribute £40,000 per year around 11% of the company's total electricity bill.
Free Cooling is predicted to make an annual saving of 58% on the electricity previously used by the chiller, estimated to be £13,200 in reduced costs.
Besides the improved working environment provided by the natural daylight and vented roof structures, together with the smart lighting initiative there have also been dramatic energy cost savings.
The energy measurement system has proved a powerful visual tool, enabling all departments to monitor CO2 savings, energy usage and generation. Importantly, it also provides the ability to compare and assess trends, and understand the company's energy use, taking action when required.