RUBBER MODIFIED POLYPROPYLENE (PP-EPDM)
PP-EPDM are blends of polypropylene with unvulcanised ethylene propylene rubber/elastomer to produce rubber like materials.

Please Note: This page is for information purposes only. Rutland Plastics is an Injection Moulder and does not supply polymers.
PROPERTIES
A range of rubber like materials where various combinations are used to achieve the properties required.  PP-EPDM is a variant where there is a propylene content of between 25% and 55% by weight.  The 'D' is a diene monomer added at 3%-10% in order to obtain a sulphur vulcanised material.  Heat distortion and stiffness can be improved by the addition of fillers.
Materials where there is less than 30% rubber and this is not cross-linked or cured may be referred to as follows:
Rubber Reinforced Polypropylene (RRPP)
Rubber Modified Polypropylene (RMPP)
If the rubber content of a blend is less than 50% then the material may be referred to as one of the following:
Elastomer Modified Thermoplastic (EMT)
Olefin Thermoplastic Elastomer (OTE)
Impact Modified Polypropylene (IMPP)
Thermoplastic Elastomer (TPE)
Thermoplastic Rubber (TPR)
COLOURING
The natural colour is similar to polypropylene – off-white. Can be readily coloured, however most applications are automotive where good UV stability is essential so many materials are black.
Finishing
Parts can be painted for decoration and to improve scratch resistance although they will need pretreating prior to painting.
CHEMICAL RESISTANCE
| | |
| --- | --- |
| Mineral Acids (dilute) | Excellent |
| Mineral Acids (concentrated) | Good |
| Alkali | Excellent |
| Alcohol | Good |
| Ketone | Poor |
| Aromatic Hudrocarbon | Fair |
| Chlorinated Hydrocarbon | Fair |
| Detergents | Fair |
| Oils, Greases | Good |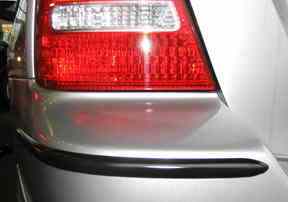 APPLICATIONS
The main use of these materials is as car bumpers and car door protection strips. Talc filled grades are also used for car instrument panels.