POLYPHENYLENE SULPHIDE (PPS)
Polyphenylene Sulphide (PPS) is a tough, stiff material frequently used as a substitute for aluminium.

Please Note: This page is for information purposes only. Rutland Plastics is an Injection Moulder and does not supply polymers.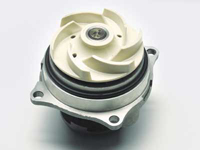 PROPERTIES
PPS is usually sold as glass fibre filled grades. It has good mechanical and electrical insulation properties, high temperature resistance (may withstand continuous service up to 240˚C), chemical and moisture resistance, flame resistance and excellent stiffness and creep resistance.
COLOURING
The natural colour of the material is from light tan to dark brown so only a limited colour range is possible.
Finishing
Mouldings can be welded ultrasonically except for combined mineral and glass filled grades. Can be hot stamped but requires high temperatures.
CHEMICAL RESISTANCE
| | |
| --- | --- |
| Mineral Acids (dilute) | Excellent |
| Mineral Acids (concentrated) | Excellent |
| Alkali | Excellent |
| Alcohol | Excellent |
| Ketone | Good |
| Aromatic Hydrocarbon | Fair |
| Chlorinated Hydrocarbon | Fair |
| Detergents | Excellent |
| Oils, Greases | Excellent |

APPLICATIONS
Due to its high temperature resistance PPS is widely used in the manufacture of connectors, terminal blocks, sockets, coil formers, bobbins and relay components. Used by the automotive industry as a metal replacement in ignition parts, lamp holders and brake circuit valves. A good example of the material is pH meter components where PPS parts were still functioning after 3 years but stainless steel had failed after only 2 months.