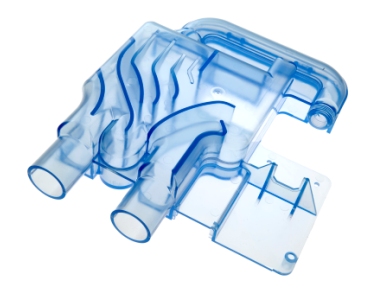 Rutland Plastics has purchased a Loctite 500 series automated glue dispensing system.  This fully automated machine will enable a variety of parts to be glued consistently and quickly offering a cost-effective joining solution.
The machine was ordered for a new project that required the assembly of two relatively large styrene mouldings with a waterproof joint.  Various joining methods were considered, including sonic welding, but due to the size of the parts, the material involved and joint integrity an adhesive was considered the best option.
In light of the difficulty of applying adhesive to this part manually and the potentially large numbers involved, an automated solution was chosen.  Following advice from Henkel, the Loctite 500 Series was selected.
By coincidence, another project requiring glueing was close to completion – the MindDice®.  This was also considered an ideal candidate for an automated approach.  As Rutland Plastics' new machine would not arrive in time for the first production batch of the MindDice®, Henkel loaned a demonstration model which is shown in the photo alongside.  This proved to be highly successful and enabled assembly alongside the moulding machine.
This new piece of equipment now opens up other joining capabilities alongside the company's existing sonic welding service which provides a quick, clean and efficient method of welding plastic parts together with a strong and permanent bond.