FOCUS ON PLASTICS – AUTOMOTIVE
This focus on the use of plastics in the automotive sector is not just about this industry. The automotive industry is at the forefront of polymer development. Firstly because there is a need to reduce vehicle weight to improve fuel consumption and reduce emissions. Secondly, because of its highly competitive nature requiring constant efforts to reduce costs and introduce innovative design.

The high volume of vehicles manufactured makes the automotive industry attractive to the polymer manufacturers. As a result, they are prepared to invest in the necessary research to develop new polymer grades to meet the exacting demands.

The purpose of this article is to illustrate some of the areas where plastic materials are used – often in demanding or innovative applications. From this it will be possible to appreciate the potential for polymers in other industries and applications. This is only an overview to demonstrate the capabilities of polymers, more detailed information on specific applications and the properties of these materials can be found on the various polymer manufacturers websites, e.g. DuPont and Celanese.

Let us take a look at each area of a vehicle in turn.
EXTERIOR
Body Panels – Many body panels themselves are now injection moulded.  Front and rear end panels in PC/ABS or PET, for example.  This can be colour matched to the paintwork or, more commonly, painted along with the main body shell.  These materials are chosen not only for their inherent strength but also because they can withstand the baking cycle without deforming.
Sunroof Frames are moulded in thermoplastic polyester for their excellent mechanical and dimensional stability properties – after all you do not want a leaking sunroof.  The sunroof glass these days is less likely to be glass and more likely to be polycarbonate.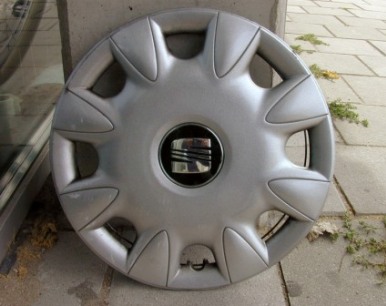 Roof Panels – The trend for larger, 'panoramic view', clear roof panels or double-curved glazing has been made possible by the wider use of polycarbonates.  This material offers excellent impact strength, an important consideration, and is suited to outdoor applications with the addition of a UV Stabiliser.  This not only reduces weight but also makes possible three-dimensional design.
Wheel Covers – For cars that do not have alloy wheels, wheel covers are plastic mouldings.  As a rule slightly cheaper thermoplastics may be used, such as ABS.
From large body panels to smaller mouldings, such as door handles and wiper arms, plastics are increasingly replacing metal.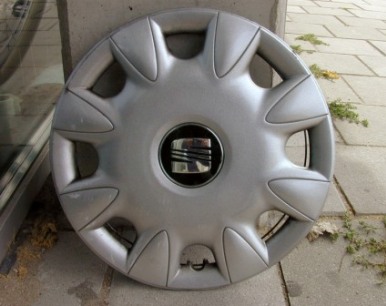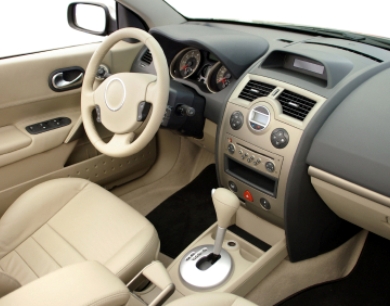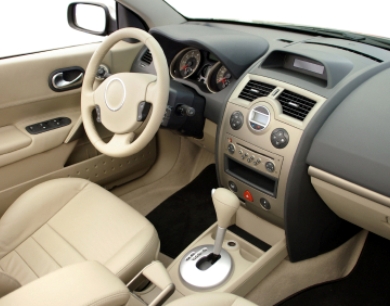 INTERIOR
Plastics have had an increasing presence in automotive interiors for many years.  With many of the mouldings being non-structural, designers have looked to take advantage of the many benefits of injection moulded parts – combination of previously independent parts into a single moulding so reducing assembly costs, free-flowing designs and different textured finishes.  As materials and moulding processes have evolved so the use of plastics has increased.  Soft touch materials, larger mouldings (complete dashboards in a single shot), in-mould bonding of fabrics to a moulded panel, such as door inserts.
Seating – Along with the development of the materials has been the development of moulding machines and processes.  The machines have become larger enabling in turn larger mouldings.  Seating systems now contain a variety of injection mouldings, including the main seat bodies themselves.
Switches – A fairly recent development has been polymers developed specifically for laser marking.  These are used for various switches in a car that are then laser marked with the necessary text or symbol.  This can be cheaper than printing and has the added benefit of being permanent.
The latest developments include a metallic effect acetal.  Previous metallic effect polymers have always had shortcomings, this latest grade is being used to manufacture interior car door handles, for example.  These were plastic in the past but were then painted, plated or vacuum-metallized.  This new material negates the need for a secondary process resulting in obvious cost savings.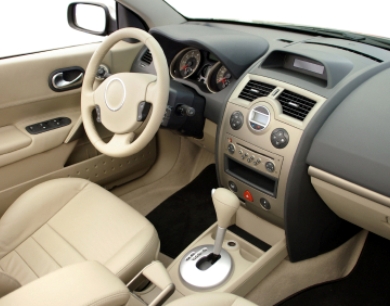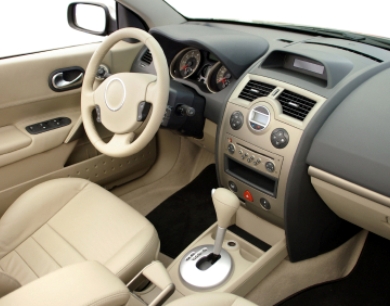 UNDER BONNET
Included in this section are electrical and electronic systems, fuel systems and power train.
Due to the high temperatures, presence of oils and other chemicals and generally demanding operating environments, the engine compartment seems an unlikely place to find plastics.  Battery cases and fuse boxes have been plastic mouldings for a number of years, but increasingly more mechanical parts are now plastic mouldings.
Engine Rocker Covers – Manufactured using glass filled nylons to withstand the high temperatures and the glass to reduce the warpage risk.  Injection moulding has also enabled the combination of previously separate parts into a single component, such as combined rocker cover and air cleaner.
Air Intake Manifold – Produced using nylon and PPS (an aluminium replacement).  In one particular application a moulded spindle has to be permanently leak tight and withstand a maximum torque of 7.5Ncm in continuous operation without any adverse effects.  The moulded part saves weight and, in this example, has cut production costs by 30%.
Charge Air Ducts – These parts are used for turbochargers.  The demand for turbos has grown along with the increased number of diesels on the road.  New developments in this technology are now leading to them being used on petrol engines as well, delivering better performance and economy from smaller engines (the new Ford Focus, due in 2011, is likely to use this technology).  For this application, long glass fibre reinforced nylon is used.  This material offers high stiffness and dimensional stability along with low creep at continuous temperatures of 210C and short term peaks of 225C.
Oil Sumps – These are also manufactured in glass filled nylon.
Load Bearing Parts – The latest development is the replacement of the aluminium transmission cross beam on the BMW 5 Series Gran Turismo.  By using a BASF grade of 50% Glass Filled Nylon the weight of the part has been halved.
The application examples provided in the above features will not be confined to products manufactured by Rutland Plastics.