The Government recommends that everyone insulates their lofts to a depth of 270mm if they use rolls of mineral wool insulation. However, homeowners also want to use the loft for storage, and so many people put boxes on top of the insulation or, even worse, put boards down on top of the joists. In both cases, the insulation gets compressed and squashed insulation doesn't perform very well!
StoreFloor is an innovative loft storage system which allows a loft floor to be quickly and easily raised above the insulation, both protecting the insulation and providing a safe and secure platform for access and storage. It has been developed by LoftZone, a UK start-up company, supported by the Carbon Trust.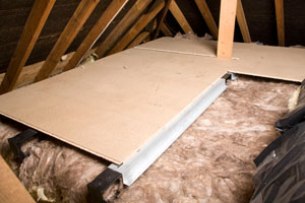 The LoftZone StoreFloor protects the insulation underneath it, and provides a safe deck for access and storage. Using a raised adjustable beam that goes across the joists it allows for variations in joist spacing but also works precisely with standard 1,220mm loft boards and standard 600mm wide insulation rolls.
The resulting system is extremely strong, easily passing the British Standard 6399-1:1996 for minimum imposed floor load requirements. It is also possible to install StoreFloor without emptying the loft space by clearing a small area (1.2m x 1.2m) and start building a raised loft floor there. Boxes, etc can then be moved to this area so clearing the next space. Manufacture of this revolutionary British-designed loft storage solution has started in the Midlands.
For their part Rutland Plastics started production of the plastic beam support for the 'StoreFloor' earlier this month. LoftZone chose Rutland Plastics to help with this project because of the technical advice they could offer. The beam support needed to be strong to withstand storage and a person walking on the raised floor. Visiflow mould flow analysis was used to help with the design of the mould tool to ensure that weld lines did not occur at any points of maximum stress in the moulding.
Neil Smith and Hayley Bull of Oakham recently had StoreFloor installed in their home. Neil said "With heating bills ever increasing, I wanted to properly insulate my loft but also keep it for storage. The StoreFloor is a superb idea that does just what I need."
Dave Raval, chief executive of LoftZone, said: "StoreFloor will revolutionise lofts, providing one of the biggest ever incentives to improve the uptake of loft insulation, at only a small additional cost, and at the same time increasing the effectiveness of insulation."
Stuart Lovett, marketing manager of Rutland Plastics, added: "We are proud to be working with LoftZone on this innovative approach to providing additional storage without compromising on insulation."