Ever since John Sprange came on to the Rutland Plastics stand at PDM in 2009 people have been asking this question. A curiously shaped dice with plain faces – is it a game? Is it a Puzzle?
In fact it is neither. Mind Dice® is a product to help people with dementia communicate with their carers. Prompts can be added to a 12 sided dice, enabling the person to tap into their remaining memories provoking stories and responses that can be enjoyed by family, carers and friends.
Mind Dice® has been designed and produced by John Sprange through his direct experience of caring for his father who had Alzheimer's. John Sprange writes:
My father had a rich store of memories. He was born in 1914, the last year that horse buses ran in London. He watched and enjoyed technological advances and changes throughout his life. Towards the end he enjoyed the possibilities of my iPhone, marvelling at the pictures and capabilities of this pocket-size device.
In his later days, despite not recalling what happened 5 minutes before, he was able to recollect memories from long ago. Frequently he brought to mind events that placed him where he was happiest and at the height of his powers. I experimented with the dice, which carried names of people, places and themes. He would sit rolling it in his hands, reading the prompts and saying. 'This is my life' with a sense of surprise.
The dice enabled me to engage with him with 'prompts' that set him recounting his stories. With my interest raised, I started looking into his past, trying to find fresh prompts to initiate his phrases and commentary.
A carer's knowledge of a loved one and their family history makes it easiest for them to populate the dice with prompts, such as people, places, themes. Collect 12 examples for each topic and then select 4 prompts from each section, for example: What was your favourite job? Which seaside place do you enjoy the most? And so on.
Write them on the dice using the non-permanent pen provided. The Mind Dice® can be wiped clean using a damp cloth.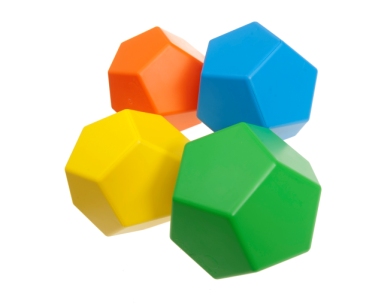 These prompts are simply ideas to help the person with dementia engage in comfortable conversations. MindDice® is pleasant to the touch. As it is handled and rolled around, various prompts come to the fore provoking topics for conversation.
The early prototypes made from wood were tested by family carers, in care homes and a hospital ward. A new smaller and lighter version was developed that incorporated lessons learned from the feedback.
John, a woodworker, explored the use of plastic through the Hidden Art's 'Hidden Polymers' course which provided an introduction to the materials and their manufacturing techniques.
When John approached Rutland Plastics at PDM he had just a wooden model of the MindDice®.. It was necessary to convert this into an injection moulding that could be produced cost effectively and this is where Rutland Plastics came in. To keep tooling costs as low as possible it would be necessary to design the part in such a way that the two halves were identical. Furthermore, it would be better if these two halves could be assembled in any orientation. Another consideration was that the final MindDice® should be like gaming dice with no bias.
Several joining methods were discussed and the design revised continually over a period of months, with gluing the two halves being decided as the most cost effective method. ABS was recommended as the final material as it was tough and durable and could be written on and easily cleaned. A fine spark finish was chosen. Rutland Plastics carried out the design work and produced 3D CAD models.
John won an award through the METAMORPHOSIS product development competition run by the Metropolitan Works (part of London Metropolitan University). They produced some prototypes which captured interest in the social care sector and encouraged him to take the project further. Rutland Plastics finalised the MindDice® design and had the mould tool manufactured.
The MindDice® is moulded in ABS and produced in 4 different colours. Rutland Plastics carries out the assembly alongside the moulding machine using an automated gluing machine and the assembled MindDice® is then packed along with pen, cloth and instructions ready to send to the care user.
Mind Dice can be used by family carers, in care homes or in hospitals.