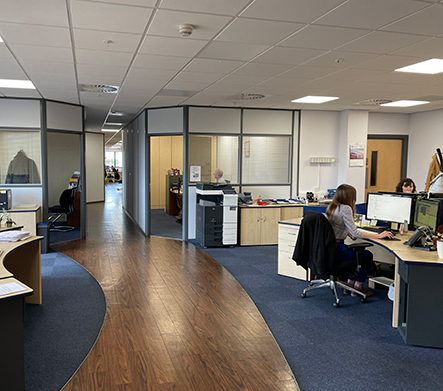 Position:
Office Administrator
We are looking for a reliable Office Administrator to assist with the running of a busy factory. The successful candidate will undertake a range of administrative tasks covering many aspects of the manufacturing process. The role is for a full time, temporary contract for one year, to cover maternity leave and ideally starting at the beginning of May. Some flexibility in working hours is possible within a normal working week.
We offer a very competitive salary package including 32 days' holidays (to include Christmas Shutdown and bank holidays) and onsite parking.
Responsibilities
General Office / Sales Administration
Providing administrative support to the Sales team (including Sales Order Entry).
Understanding the order process and communicating with customers.
Assisting with maintaining key customer systems (batch sizes, minimum stock, forecast) to reflect changing customer demands.
Pro-actively chase customers for updated forecasts and amend internal systems.
Other administrative duties including scanning, data inputting, general company correspondence and telephone duties.
Financial Administration
Assist with the input of supplier invoices.
Chasing up missing supplier invoices.
Assist with reconciling Supplier Statements.
Purchasing Administration
Chasing outstanding purchase orders on a daily basis to ensure order acknowledgments are received within 24 hours of order placement.
Checking all order acknowledgements are correct, updating our systems with the confirmed delivery dates and pricing.
Assist our Buyer with any other administrative duties.
*
Person Specification
*
Previous administration experience is essential.
Excellent communication skills, verbal and written at all levels.
Strong IT Skills including Google Docs (Docs / Sheets) or MS Office equivalent.
Ability to adapt and multitask.
This role would suit someone who is highly organised with previous administrative experience or a recent graduate. Ideally, the successful candidate would have some experience within the manufacturing sector, however, this is not essential as training will be given. Strong computer skills are needed and experience with enterprise resource planning (ERP) systems would be beneficial but is not essential.
Interested, then we would like to hear from you? Please apply through Indeed.
Send in a covering letter briefly outlining your experience and suitability for the role, along with your CV to Mark Dolby.
Job Type: Full-time, one year contract to cover maternity leave (May 2021-May 2022)
Reference ID: MDolby/OA/2021
Contract length: 12 months
Application Deadline: 19/04/2021
Expected Start Date: 03/05/2021
Job Types: Full-time, Temporary
Salary: £17,500.00-£22,500.00 per year
Schedule:
Monday to Friday
COVID-19 considerations:
We follow strict Covid guidelines as outlined by our industry body The British Plastics Federation. As we supply parts vital to industry, remote working is not possible.
Work remotely:
No
COVID-19 precaution(s):
Social distancing guidelines in place
Sanitisation, disinfection or cleaning procedures in place